Nixa Utilities Electric Dept. Earns Reliability Awards
Nixa Utilities Electric Dept. Earns Reliability Awards
May 1, 2023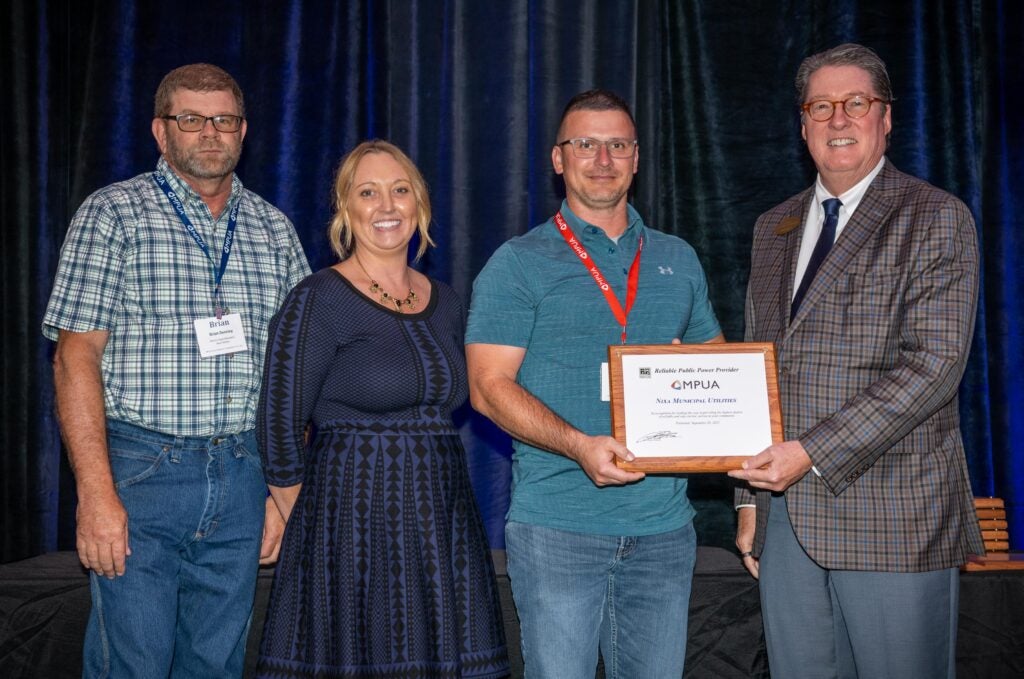 The Nixa Utilities electric department has earned a platinum-level designation as a Reliable Public Power Provider (RP3) from the American Public Power Association (APPA). Chris Huett, Assistant Electric Superintendent, represented Nixa Utilities in accepting the award, which honors public utilities for providing reliable and safe electric service.
Nixa Utilities has also been awarded a Certificate of Excellence in Reliability from the APPA. This award recognizes the Nixa Utilities electric department for tracking data on all power outage causes, durations, etc. Our utility is ranked in the top quartile for our average outage duration index. This is thanks to our line workers responding quickly to restore power when any outages do occur.
The RP3 designation, which lasts for three years, recognizes public power utilities that demonstrate proficiency in four key disciplines: reliability, safety, workforce development, and system improvement. Criteria include sound business practices and a utility-wide commitment to safe and reliable delivery of electricity. Nixa Utilities is among 271 public power utilities nationwide that hold the RP3 designation.
"Receiving an RP3 designation is a great honor signifying a utility has demonstrated commitment to industry best practices," says Troy Adams, Chair of APPA's RP3Review Panel and General Manager at Manitowoc Public Utilities, Wisconsin. "And ultimately, the culture developed from this pursuit of excellence and continued improvement through the RP3 program results in measurable value delivered to the local community."
The Nixa Utilities electric department first earned an RP3 Award in 2014 at the Gold level. This is our utility's fourth consecutive time earning RP3 designation and our third at the Platinum level.
"We are very proud of our electric department staff for doing everything it takes to earn this designation at such a high level," says Doug Colvin, Director of Nixa Utilities. "We strive to remain one of the top electric utilities in the country in all four key disciplines. This recognition demonstrates that we mean it when we say our customers can count on us."
About Nixa Utilities:
The City of Nixa operates its own not-for-profit, public-owned utility made up of the electric, water, sewer (wastewater), and utility billing departments. Count on us to provide safe, reliable, and environmentally friendly utility services. As a municipal utility, the City Council elected by city residents oversees the city staff who manage the day-to-day operations.
About the APPA:
The American Public Power Association has offered the RP3 designation for 18 years now. APPA is the voice of not-for-profit, community-owned utilities that power 49 million people in 2,000 towns and cities nationwide. APPA advocates and advises on electricity policy, technology, trends, training, and operations.