Thank you to Paul Johns for his extensive research to produce an accurate timeline of our city and for contributing the written history for this section of our website.
Facts and information attributed to Wayne Glenn and Paul Johns.
Pictures courtesy of Wayne Glenn.
To learn more about the history of Nixa and Christian County, we encourage you to visit the website on the Christian County Historical Society.
Pioneer Albert Stiffler builds the first residence—a log home—in the unnamed village.
A post office was established in the Faught Store in the little nameless village.
1878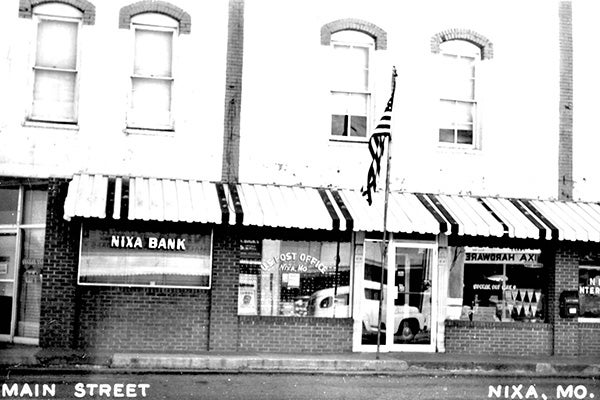 First Postmaster
Henry W. Stewart was appointed as the first postmaster of the Post Office which was called Faught after the store. This name would appear on some maps during that time period.
First Doctor
Dr. Gabe P. Shackleford Brown set up his practice in Nixa and served the town as a physician for the following 40 years, during which he also served a four-year stint as postmaster.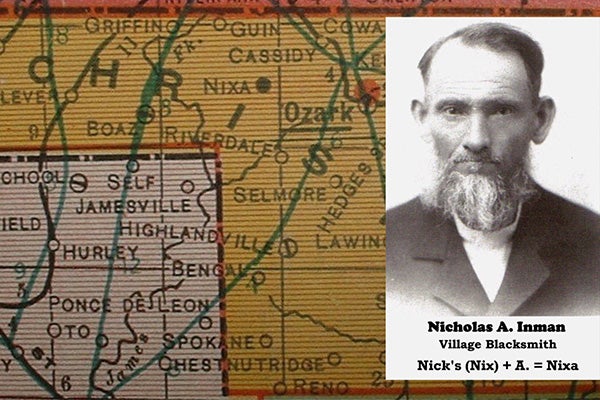 1881
Citizens decided to come up with a name for their growing village and its post office. They named it Nixa after the elderly blacksmith in the community, Nicholas A. Inman. "Nick's" was spelled "NIX" and his middle initial "A" was added to create NIXA. It is the only city in the world with this unique name.
The post office also adopted the name of Nixa.
Mr. & Mrs. Henry Stewart, Mr. & Mrs. Albert Stiffler, and Mr. & Mrs. John Aven filed a surveyed plat for NIXA centered on the crossroads of the Mt. Vernon Road which ran east and west (and from Ozark to Mt. Vernon) and a Main Street that ran north and south.
1889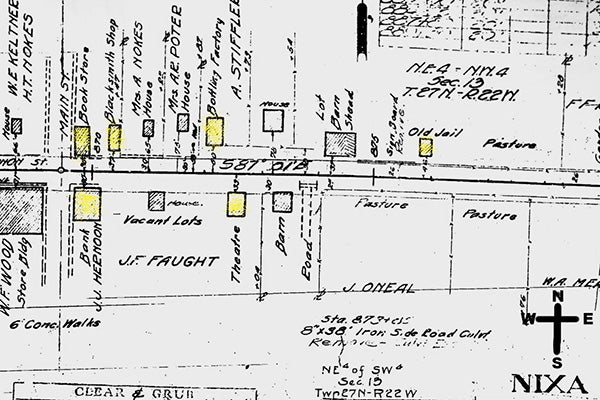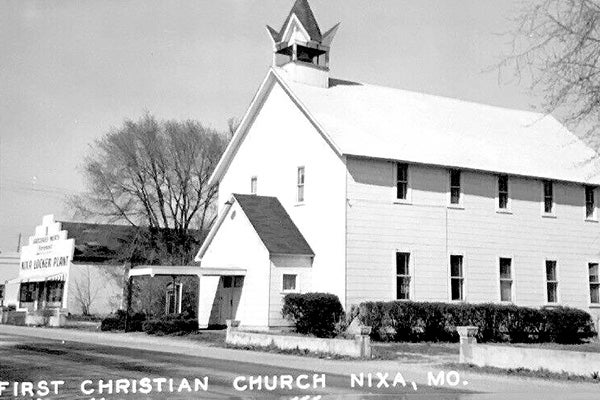 1897
The old Faught Church was moved to downtown Nixa where it was renamed the Nixa Christian Church.
A canning factory was constructed at Nixa and it would provide employment for several decades.
1898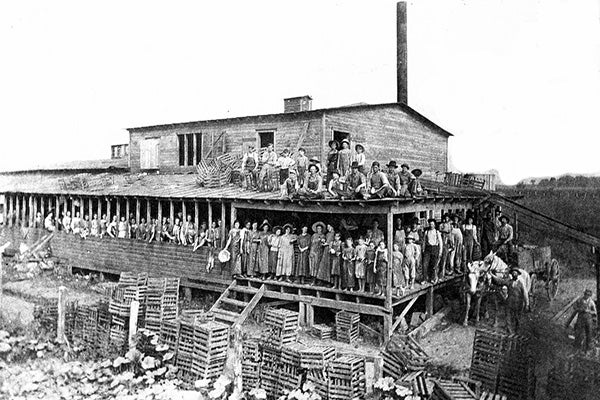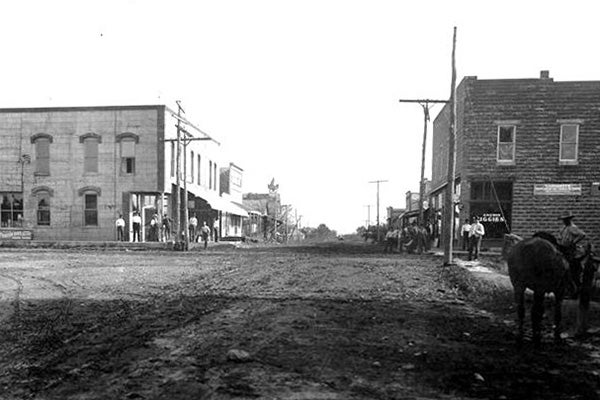 1899
The Nixa School District is organized from a dozen one-room schools in the area and students were taught in an upstairs room in one of the downtown buildings.
A hardware store is started in Nixa that would eventually be named the Nixa Hardware and is still in business today.
Dr. Wesley B. Wasson and his wife, Ella, move to Nixa where he set up his doctor's practice. He died in 1949 at the age of 87 after delivering nearly three thousand babies in the Nixa community.
1900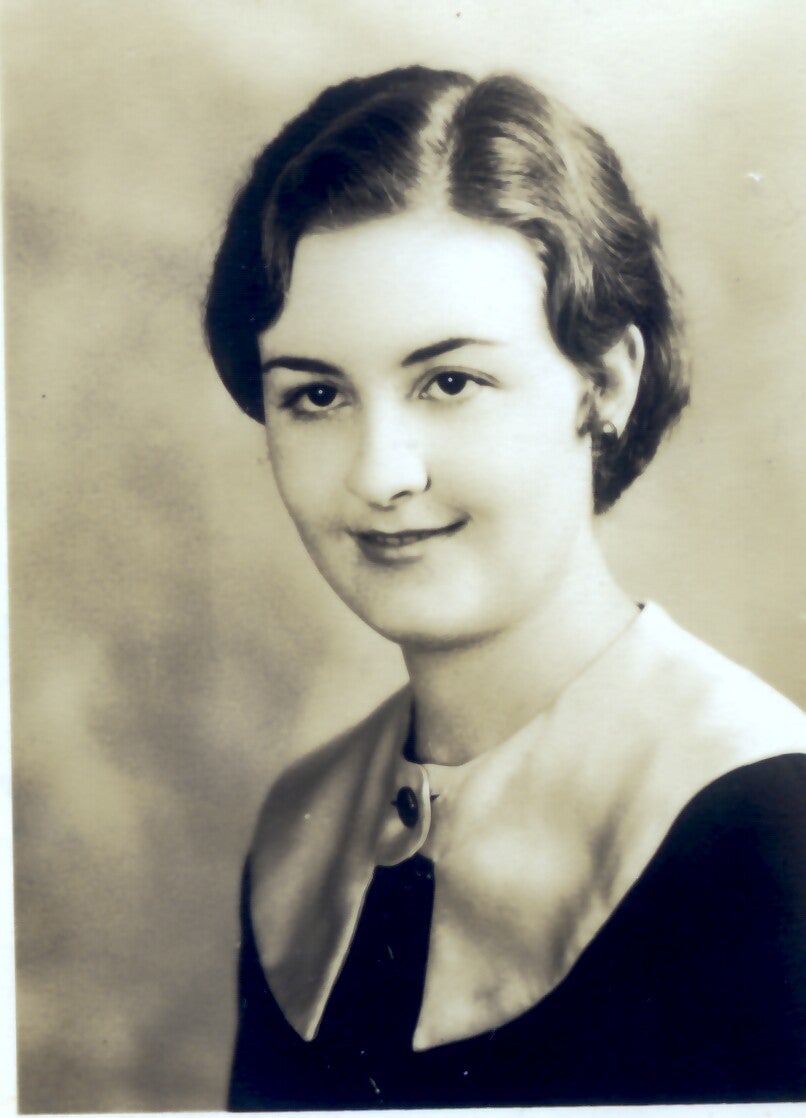 Progressive Nixa residents began a drive to make Nixa the county seat instead of Ozark, but a countywide vote on the proposal in 1914 met with a defeat.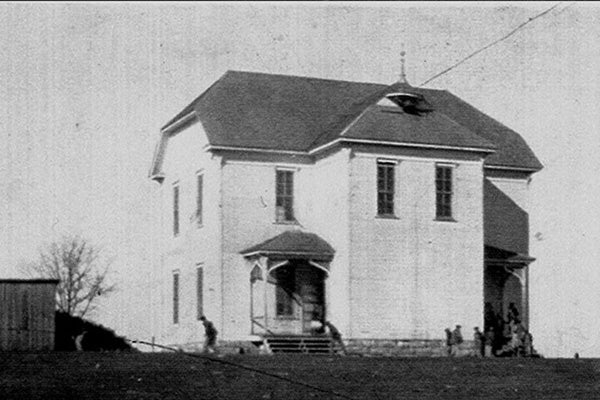 1901
A new wooden two-story schoolhouse was completed on S. Main St. and classes were moved to this first school building in the Fall of 1901.
On June 10, Nixa was organized as a village with a board of trustees and with James Bolton Rice as its first president of the board.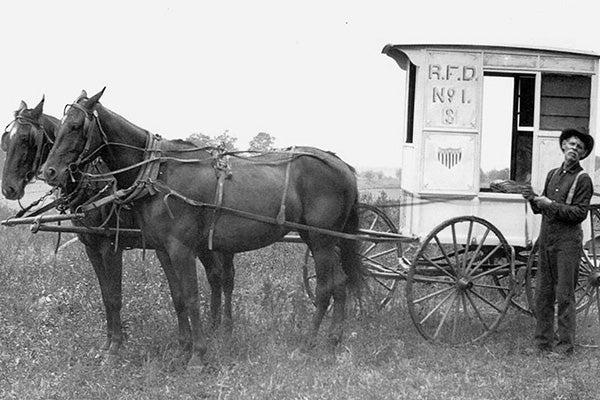 1903
Nixa's mail is now brought from Springfield via the Chadwick Branchline of the FRISCO Railroad and delivered to the stop at Cassidy, where Sam Ball picks it up each day and carries it by horseback to the Nixa Post Office. Later, when Rural Free Delivery was adopted, Bert Porter would deliver the mail to outlying residents in his horse-drawn mail hack.
The Bank of Nixa is chartered and would last until it failed in 1933 during the Great Depression.
Nixa's first newspaper, the NIXA NEWS began publication.
The first town marshal of Nixa was hired.
In July, the board of trustees passed an ordinance that "It shall be unlawful for any person or persons, within the Village of Nixa, to drive any automobile, `horseless carriage,' or other vehicle, or ride any bicycle in or upon the streets or alleys of the Village at a greater rate of speed than six (6 ) miles per hour."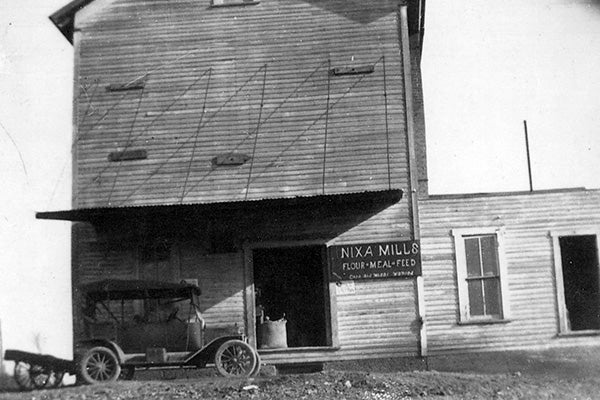 1906
A mill was built at Nixa to grind flour. It was financed by Seymour Chapman who was a partner in the Ozark Mill and the Riverdale Mill.
Nixa boasted having its own town baseball team AND its own town brass band.
1907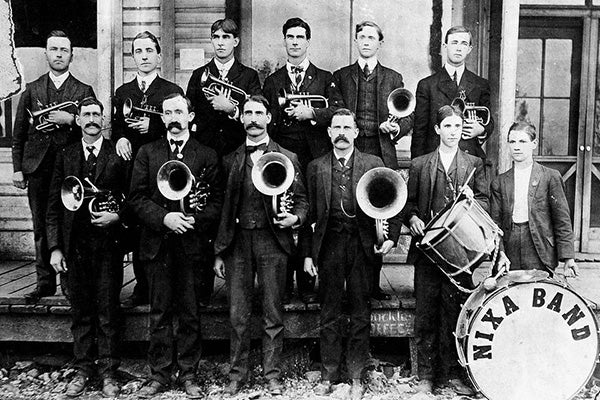 The census reveals Nixa's population at 276 residents.
Construction on the Nixa Church of Christ building began late in the year on N. Main Street.
The First Baptist Church of Nixa was founded in 1914 and a church building was constructed in 1917.
The Nixa School had an enrollment of 123 students.
The Nixa Hardware began selling gasoline for automobiles out of pumps.
1916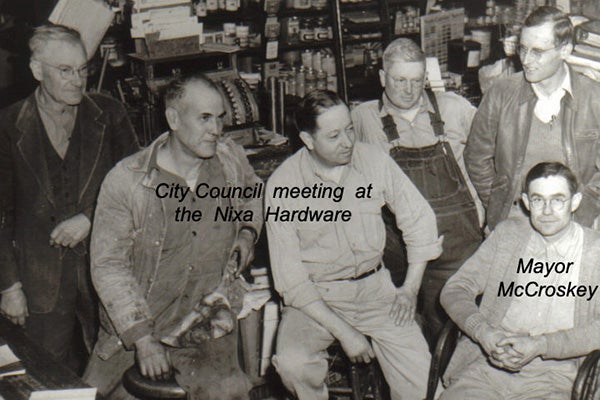 A small factory for the production and bottling of soda pop was started in Nixa and was named Nixa Bottling Works. It shut down in the early 1930s due to the Great Depression.
The census counts 370 Nixa residents in the growing village.
Two Nixa businessmen bought the old Keltner Hotel building and turned it into a movie theater. The Elite Theater showed silent movies and booked traveling vaudeville acts.
1923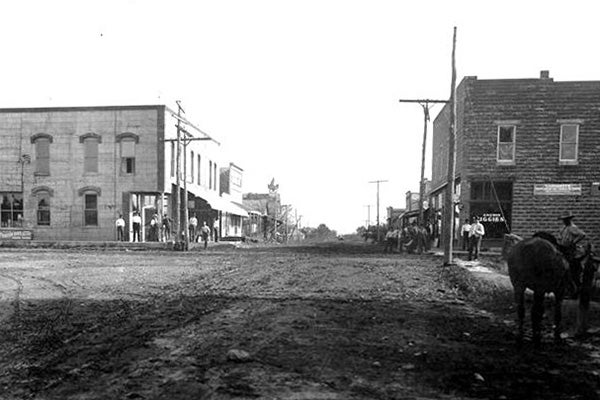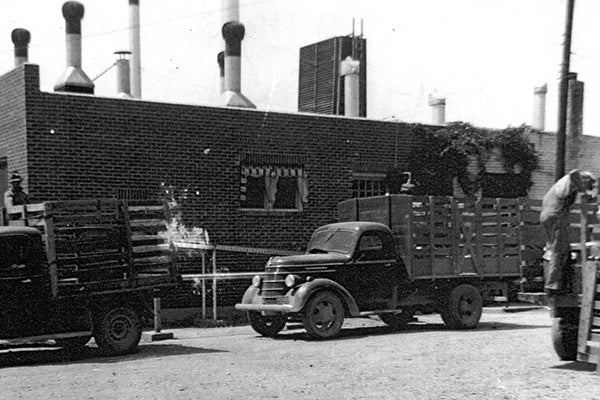 1924
A co-op cheese factory was set up in Nixa and it lasted for decades through different incarnations. Within 2 decades the factory was producing close to 4 million pounds of cheese in a year.
Nixa Schools takes in more students as consolidation comes to the area.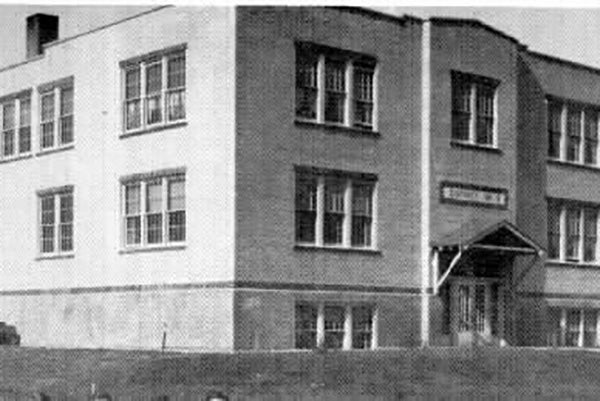 1926
A new larger school building was constructed at the S. Main Street site and for the first time all twelve grades were offered.
Nixa resident Halbert Keltner sets up the first small system to provide electricity to local businesses.
Nixa's Parent-Teacher Association (PTA) was started in September and because of the depression it launched a hot lunch program in the Nixa School in 1933.
The new census shows that Nixa lost residents and the official count is down to 307, most likely due to residents leaving for areas with more jobs because of the depression.
The first water tower in town was constructed behind the businesses on the west side of downtown by several Nixa businessmen.
The first issue of the NIXA MISSOURIAN newspaper was published on Dec. 13 and the editor  Edna Wasson, who later would be a long-time postmistress for Nixa and Nixa's first female mayor.
1935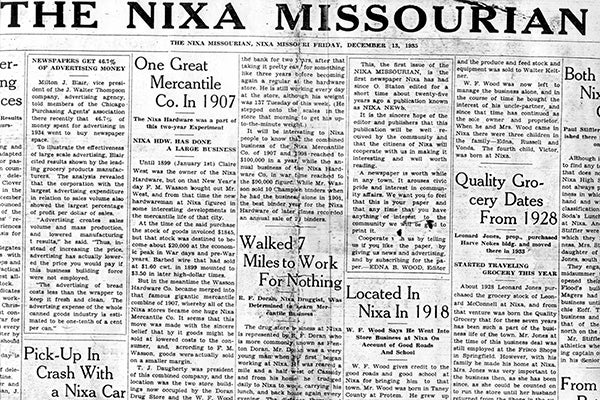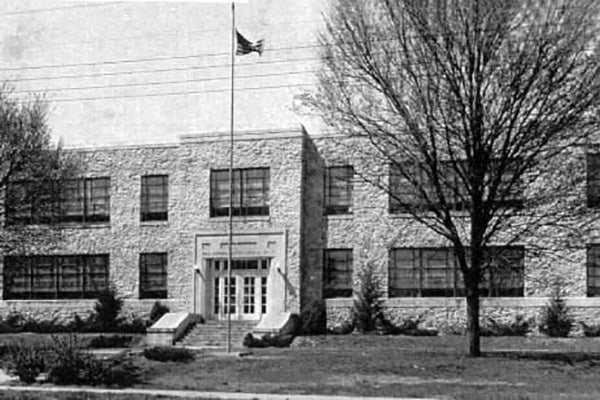 1940
A third, larger school building was built at the S. Main St. site and connected to the 1926 building by a breezeway and both structures were utilized for the twelve grades.
The census reveals that Nixa is back up to 370 citizens.
A vinegar plant, still in operation at the present time, began shipping out vinegar. In less than a decade it would be producing a million gallons per year.
Main Street in Nixa was paved.
Nixa residents passed a bond issue to drill a well and build the first municipally-owned water tower on the street near downtown that became aptly named 'Water Street.'
On June 7, Nixa was officially incorporated as a fourth class city and went to the mayor and city council form of government. L.D. McCroskey was chosen as the first mayor of Nixa.
The city of Nixa's first water system for the entire town is implemented.
The city purchases a 1947 Willy's Jeep with a Howe fire-fighting apparatus and volunteer firefighters put it to good use.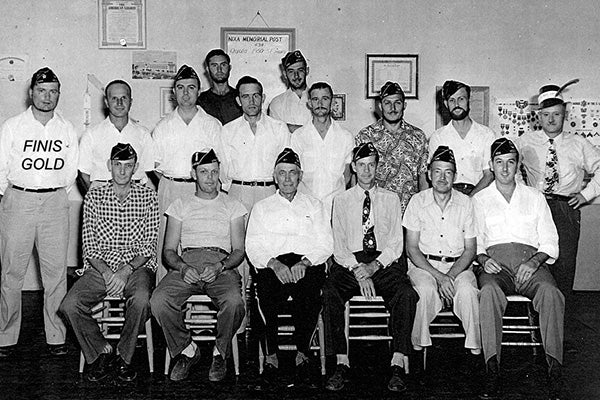 1949
Nixa American Legion Memorial Post was chartered in September of 1949. Finis Gold was instrumental in organizing the Post and was very active in its community activities. He served as commander of the Post in 1950-'51.
Finis Gold, under the auspices of the Nixa American Legion Post held the first annual Old Fiddlers' Contest. This contest drew fiddle players from throughout the state and was held annually for many years.
The census takers count 509 residents within Nixa's city limits.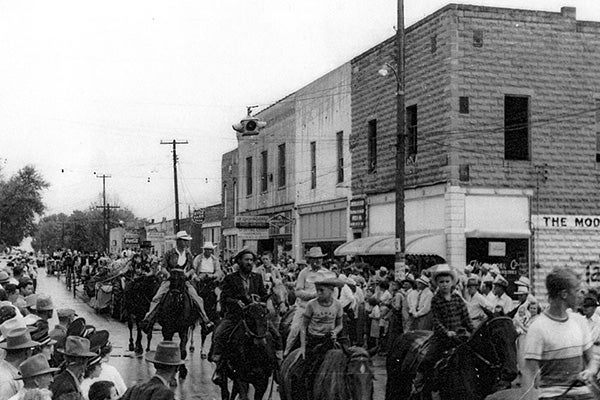 1952
Finis Gold organizes a huge and long-lasting Nixa Jubilee Centennial celebration, although it was not based on there having even been a village at Nixa in 1852.
The Nixa Reporter newspaper published its first issue and it was co-owned and edited by local barber, Finis Gold, who later helped start and run the annual Nixa Sucker Day event and also served as mayor.
1954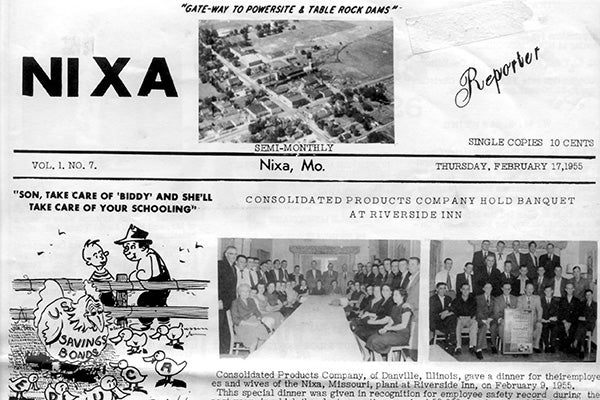 In April the city formally establishes the Nixa Fire Department and appoints it's first Fire Chief.
After last year's informal 'Sucker Day', the Finis Gold-led event becomes an official, Mayor-proclaimed function operated by the Nixa Lion's Club and goes on to great success and is still going strong.
The Nixa Bank opens its doors.
Nixa's first park, now called Rotary Park, was created.
The Nixa American Legion Post, led by Finis Gold, forms the Nixa Rural Fire Department.
Nixa's longest-lived newspaper, the Nixa Enterprise, published its first issue on Dec. 22. It remained in publication until 1989.
1960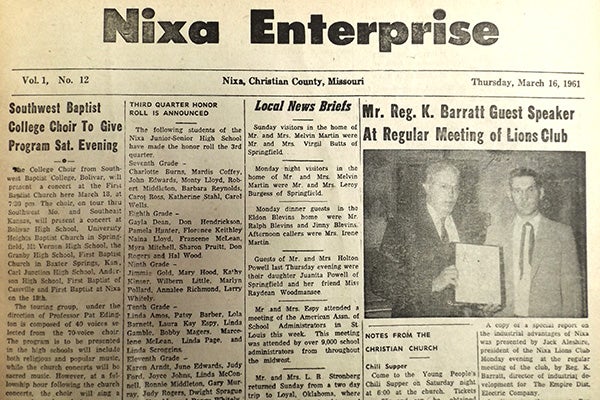 The new census reveals a big influx of new residents as the population of Nixa is now 944.
Bell Telephone Company buys out the Nixa Telephone Exchange.
Nixa receives its 65714 postal zip code.
Finis Gold is elected Nixa's mayor.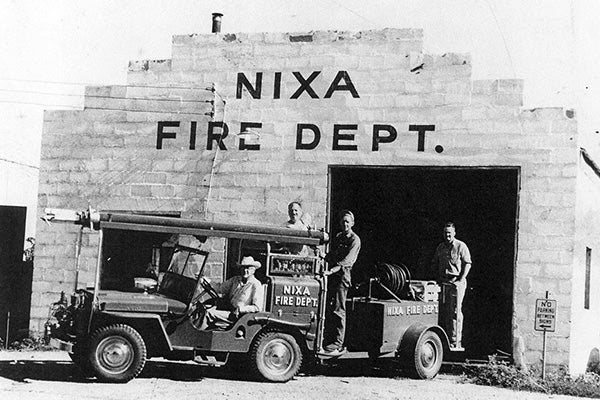 The city erects its first city-owned water tower AND also purchases its first fire engine.
At Mayor Gold's urging, the Nixa City Council held two elections concerning whether Nixa would own its own electrical system. The first vote, in August, failed by 7 votes. A special election was held on the same issue in September and with a record turnout of voters, the issue passed handily.
On February 12, Nixa Mayor Kirk Hawkins activated the new electrical transmission line to Nixa and the municipally-owned electric system started providing power to Nixa.
The new Highway 160 is completed and bypasses downtown Nixa, replacing Main Street as the primary north-south road through Nixa.
Nixa begins installing a sewer system for the town.
One of Nixa's larger employers, Diversified Plastics Corporation began molding expandable plastic resins in the old cheese plant building and quickly grew into a thriving nationwide molder of expandable polystyrene packaging, injection-molded plastics, and similar products.
1969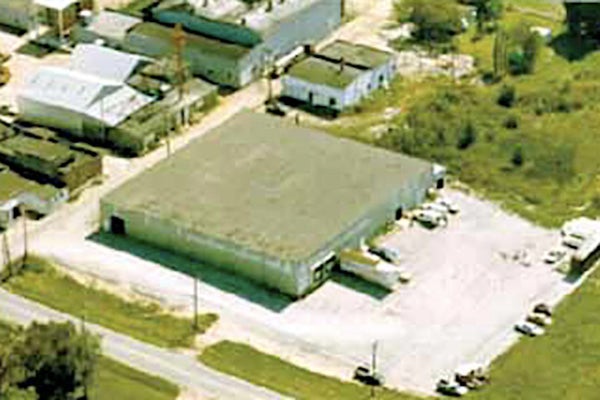 1,636 residents live within Nixa's boundaries according to the new census.
This year's census shows that there are 2,662 people residing in Nixa.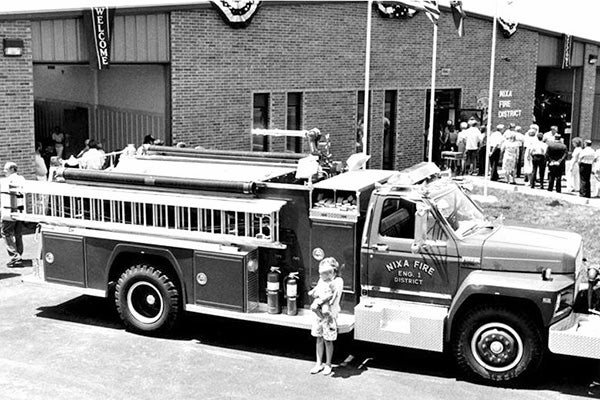 1987
The Nixa Fire Protection District opens its first fire station on N. Main Street.
The new decade greets a census that reveals that there are now 4,707 people living in Nixa.
City offices are moved to a new City Hall Building, the first that was not a re-used existing structure.
The Nixa Community Foundation was formed and was the first-ever affiliate foundation to the Community Foundation of the Ozarks. Since its formation it has given more than $3.7 million back to the community.
At the turn of the new century, the official census counts 12,124 residents in Nixa, a big influx of new residents.
The growth of Nixa's population continues with a census count of 19,022 residents.
The central offices for Nixa Public Schools were moved into the old, but renovated, school building on S. Main St. that was built in 1940 and once housed all twelve grades.
Nixa's population increases to 23,257 residents in the latest census.