Truman Blvd Extension Project
Project Quick Facts
Budget:
Water Department Budget: $130,000.00
Street Department Budget: $1,757,816.00
Cost Share: 80% Federal Highway Administration, 20% City of Nixa
Contractor(s):
D&E Plumbing is contracted as of August 15, 2022.
Anticipated Completion Date:
This project is scheduled to be completed in June 2023.
Federal Highway Association covers 80% of the cost to extend Truman Boulevard to connect with Norton Road in southwest Nixa.
The City of Nixa will be using state, federal, and city funding on the upcoming construction project to extend Truman Blvd south to the current intersection of Norton Rd and Pembrook Ave.
This project is intended to:
improve street connectivity within Nixa
improve safety of traffic flow by creating a bypass of a narrow, tree-lined section of Norton Rd
create more sidewalk connectivity within Nixa
Truman Blvd will be extended from Heather Glenn south to the intersection of Bailey St, and from Livingston south to Norton Rd. Improvements will also extend south along Norton Rd. to the south side of the intersection with Pembrook Ave. The extension of Truman Blvd to connect with Norton Rd will result in the renaming of Norton Rd. to Truman Blvd. An existing section of Norton Rd will become abandoned roadway. Improvements to Truman Blvd will include sidewalks connecting Highway 14 all the way to W Pembrook Ave.
May 5, 2023
Roundabout Installation
A roundabout is being installed at the Pembrook & Norton Rd. intersection. The intersections of Pembrook and Butterfield will alternate closings, so one intersection will always be open to allow access to the Meadowbrook subdivision. Road closings for this roundabout are anticipated to last around a month, depending on the weather.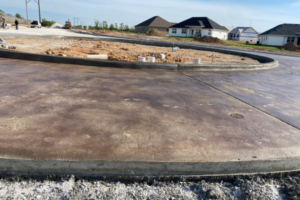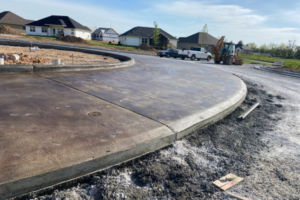 March 28, 2023
Asphalt, Curbs, & Sidewalk Installation
Crews have begun laying asphalt as well as pouring curbs and sidewalks along the Truman Blvd. extension.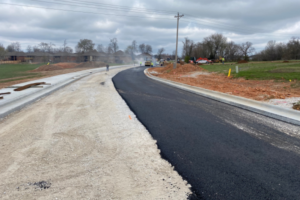 November 9, 2022
Norton Rd. closure to begin November 28, 2022
Norton Rd. will remain closed for the duration of the Truman Blvd. Extension project. South West St. will be closed just south of Livingston St. for the northern section of the project.
On the southern end of the project, Norton Rd. will be closed at a point just south of W. Butterfield Drive. (Norton Rd will remain open to the south of that point and all the way to Rosedale Rd.)
Pembrook Ave. and W. Butterfield Dr. intersections will be closed at alternating times, ensuring the Meadow Brook subdivision is still accessible. However, north and southbound traffic on Norton Rd. will be prohibited until the project's completion.