Proposed Sales Tax Increase to Fund Police and Parks
Proposed Sales Tax Increase to Fund Police and Parks
September 14, 2022
As City Administrator for Nixa's municipal government, I am reaching out to make sure you are aware of the proposal for a 1-cent sales tax increase to support our Police and Parks departments which I presented to Nixa City Council on Monday evening, August 15th.
This email includes an explanation for my proposal as well as concept renderings for two proposed construction projects and the estimated prices for those projects. This email also explains why I believe a 1-cent increase to the general sales tax is the only way to afford the projects which city staff have proposed.
Proposal
Background
Background
I have been honored to serve as your City Administrator since 2018 when City Council appointed me to the position. Since your elected officials are not paid full-time to work on city issues, my position exists to serve as the executive leader of the city staff across all departments, managing all day-to-day operations. This includes our Parks & Recreation Department and Police Department, where I previously served as your Chief of Police.
From the day I became a Nixa Police Officer back in 1999, I have seen Nixa's population more than double. In 2000, when the city decided to build The X Center, our population was 12,000. In 2021, our population crested 24,000.
The rapidly growing population has put strain on every aspect of our municipal government as we do our best to keep up and strive to provide high-quality public services to support our community.
The City of Nixa has not raised its general sales tax since 1987.
The city's general fund is the fund from which legally we must pay for Police and Parks. The city currently collects a 1-cent general sales tax for that fund, and we collect a half-cent sales tax for the street department (which can legally only be spent on streets, not towards Parks and Police). The city does not collect any personal property tax and only collects 5% of the total real property tax that Nixa real estate property owners pay.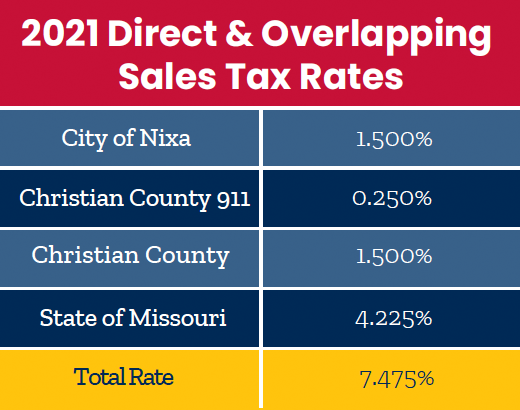 Police Department Needs
Police Department Needs
Police Department calls for service rose every year I was Chief and the trend has continued for our current Chief of Police, Joe Campbell. In 2021, the Nixa Police Department responded to over 41,000 calls for service.
Chief Campbell recently conducted a staffing study which showed his need for 11 more police officers in order to manage the growing demand for service and keep Nixa one of the safest communities in the state of Missouri.
However, he also conducted a facilities study which shows that the Police headquarters needs to double in size just for his current staffing, meaning even if the city could afford to add 11 more police positions, he would not have space for them.
Our projections for city growth mean that by 2040, the Nixa Police Department will likely need to have 80 officers by that year. We currently have 43 officers and 6 civilian staff. This means we need to plan for much more growth over the next 20 years than just 11 more officers.
If you are curious to see the inside the Police Department, Police Chief Joe Campbell has given news media interviews explaining the need for more officers and more space in the Nixa Police Headquarters facility.
Proposed Construction of New Police Department Headquarters
Proposed Construction of New Police Department Headquarters
The proposal I brought to City Council includes replacing our current police headquarters with a new 3-story building which would stand where our current Police department parking lot and Utility Billing facility stand on the current municipal government campus.
This would first require us to move the utility billing department into City Hall to fill some available space we have there from municipal court being relocated to the county courthouse. Then, we would demolish the utility billing facility and parking lot in order to construct the new Police headquarters, designed to accommodate our needs for the next 20 years and a department of up to 80 officers.
The 3-story building would have 2 completely finished floors to accommodate our current needs, and the third floor would have an unfinished interior to save on cost until department growth necessitates infill of more offices at some point in the next 20 years. This plan means the city does not have to spend any money to buy land for the new building. The best part of this plan is that it allows the department to continue to use their current facility until the new one is ready for move-in. After move-in to the new building, the current Police facility would be demolished. This entire project is estimated to cost about $13 million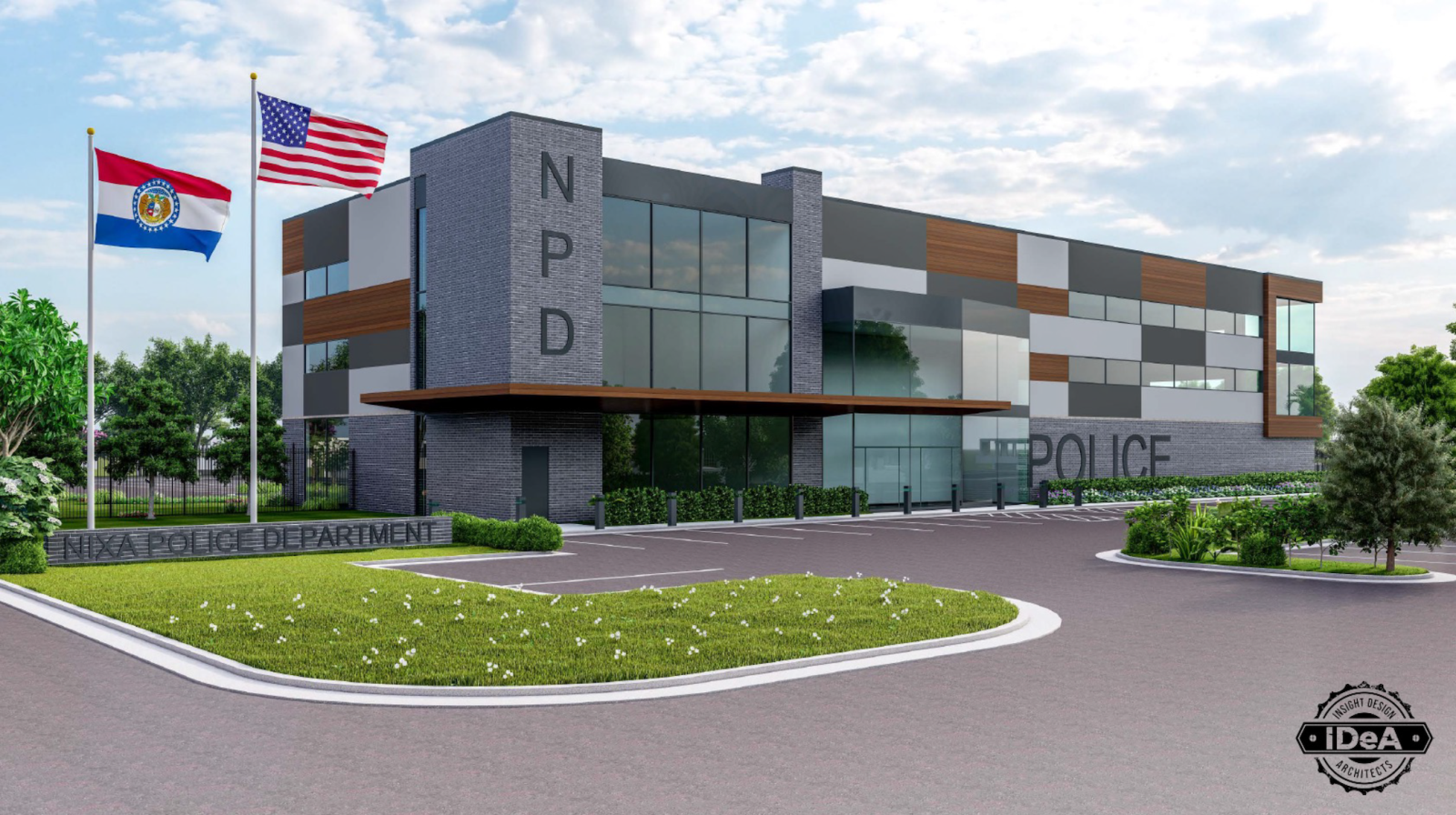 Funding Challenges
Funding Challenges
In 2021, the City of Nixa brought in $3.4 million in general sales tax revenue. That money goes to the general fund from which we pay for the Police and Parks Departments. However, last year we spent $3.7 million from the general fund on the Police Department alone, mostly on officer salaries.
As you can see, under our current funding structure, we are in a deficit condition where the city cannot afford to keep up with the growing needs of our Police Department as they try to meet the growing needs of our growing city, let alone the Parks Department and other administrative and support departments.
When Chief Campbell asked for 6 more officers in the 2022 budget, the city could not afford to add any of those positions.
The City passes a balanced budget every year, but to keep our city in the black, we can't afford big police and parks projects unless we gain more revenue to support the general fund.
I especially encourage you to review our 2021 Popular Annual Financial Report (PAFR) which explains complex city finance in a way the average person can understand.
Proposed Funding Source
Proposed Funding Source
This is why I have proposed a 1-cent general sales tax increase, and all of that money would be earmarked for public safety and recreation.
It would afford us the ability to move forward with the plan for the new Police Headquarters, and our goal is to try to add at least 3 to 4 new officers each year for the next few years. (Since Chief Campbell does not currently have enough staff to train and onboard 11 new officers all at once).
Importantly, this plan also allows us to make long-overdue investments into our Parks & Recreation Department facilities. Our growing population also means there is more demand than ever for such facilities where our families can play.
Parks Facility Needs
Parks Facility Needs
The X Center was built in 2002 and we paid off the debt on that project last year. However, the facility was conceived when our population was less than half of what it is today. It only has a single regulation basketball court. The facility is at 85% to 90% capacity and is not capable of hosting our recreational youth basketball and volleyball leagues under the same roof.
We have depended for many years on the school district to provide us gym space for activities such as basketball games, but we don't want to continue to put the school district in a position where they have to give us gym time, when their own growing needs mean they need to use the gyms for their own teams and other events. If they get to a point where they can no longer host the city's recreational league games, we will be completely without option.
We also need to offer more indoor recreational space in a different part of town. The X Center is in the northeast area of the city, and we would like to place an additional, new indoor recreational facility in the west or southwest area of the city, preferably along a major corridor.
Proposed Construction of Indoor Sports Facility
Proposed Construction of Indoor Sports Facility
This is why the proposal I brought to City Council calls for the construction of a new 80,000+ square foot indoor sports complex. The facility we propose would feature 4 indoor regulation-sized basketball courts, which could serve as 8 volleyball courts or 12 pickleball courts. The facility also features a fitness center and an indoor turf field which would offer soccer, ultimate frisbee, and many other recreational programs, events, and sports clinics even during poor weather.
The proposed facility also features a 2nd story mezzanine where we could expand into the future with more programing such as e-sports and other recreational opportunities. We would want the facility to accommodate Nixa families and fans, concessions, and meeting space as well as some offices for the parks staff needed to operate the facility and maintain it.
Another benefit of building something this large to serve our community is that it would also be usable for regional sport tournaments which could draw players from surrounding areas. Those visiting families would be likely to visit our local restaurants and shops, creating demand for more business development which may draw additional restaurants, retail, and more to Nixa.
The facility we are proposing comes with an estimated price tag of $25 million.
The Parks Department will continue to invest in maintenance of their current facilities, and we are investing in the planning and development of the new Eoff Family Century Farm park north of town along AA. Those things fit into our current budget (though we could do even more and faster with a revenue increase). We are also building a new inclusive playground at McCauley Park this year at a cost of about $1 million, which it took us 8 years to save up for.
While we continue to make these other investments in our parks & recreation, this indoor sports complex project is not feasible without a 1-cent sales tax increase.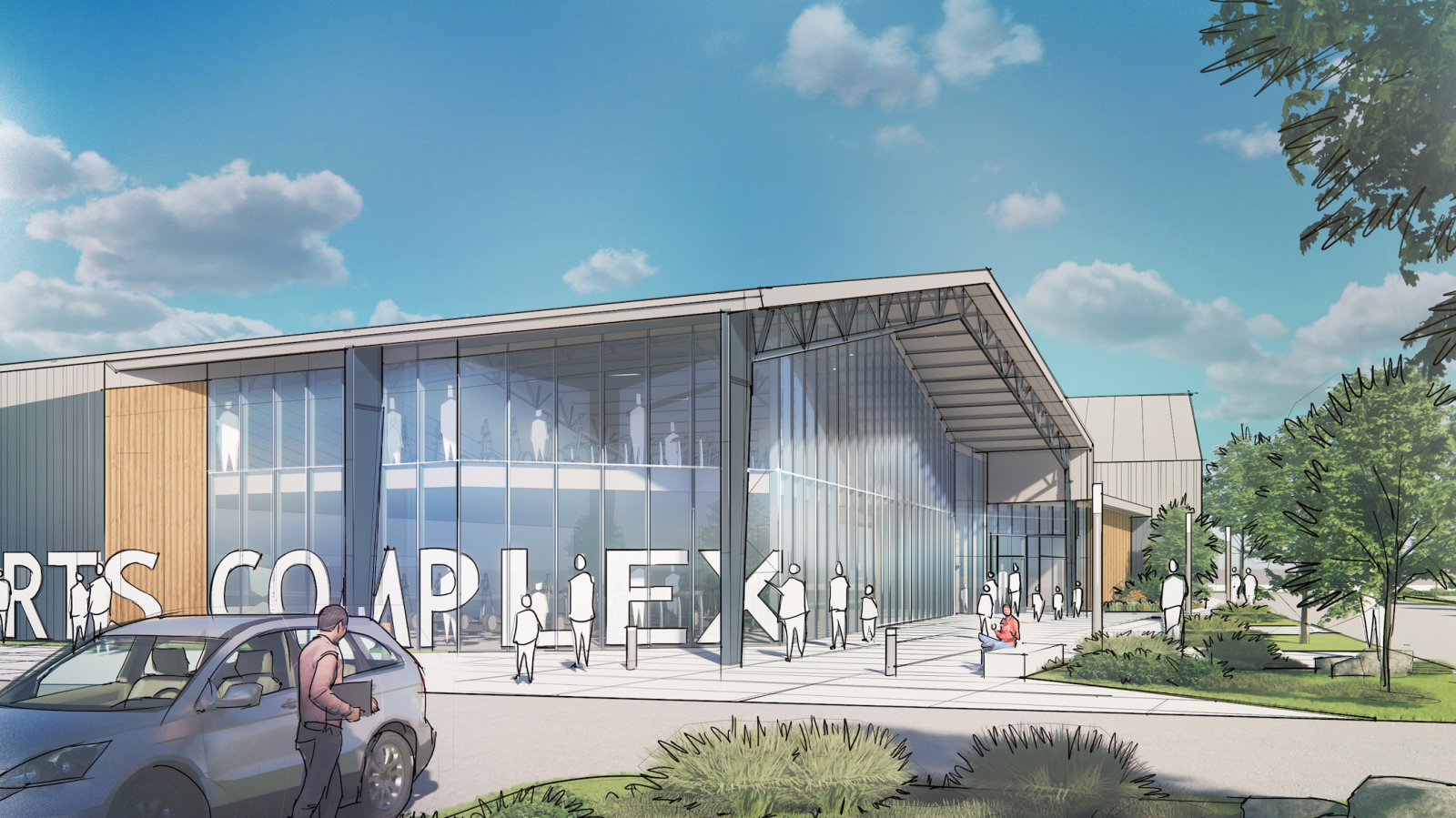 Impact of a 1-Cent General Sales Tax Increase
Impact of a 1-Cent General Sales Tax Increase
A 1-cent general sales tax increase would add $1 dollar to a $100 purchase. If approved by Nixa voters, that cost you and others would pay when shopping in Nixa would allow the city to afford the additional officers, new Police Headquarters, and new Indoor Sports Complex. It would also allow us to continue to fund the Police and Parks departments into the future by keeping the additional staff on the payroll and covering the costs of operations and maintenance for these departments.
If you look at other comparable surrounding communities like Republic, they collect more sales tax than Nixa, which allows them to make much larger investments into infrastructure and community amenities, even though they serve a smaller population than Nixa. Those investments in infrastructure and amenities are key to attracting private investments from developers and businesses, who want to locate in communities where their employees will want to live.
Parks & Recreation and Public Safety services are key factors to providing an exceptional quality of life which attracts residents, workforce, and therefore employers, places of work, and more restaurants, retail, and service business options for our community to utilize.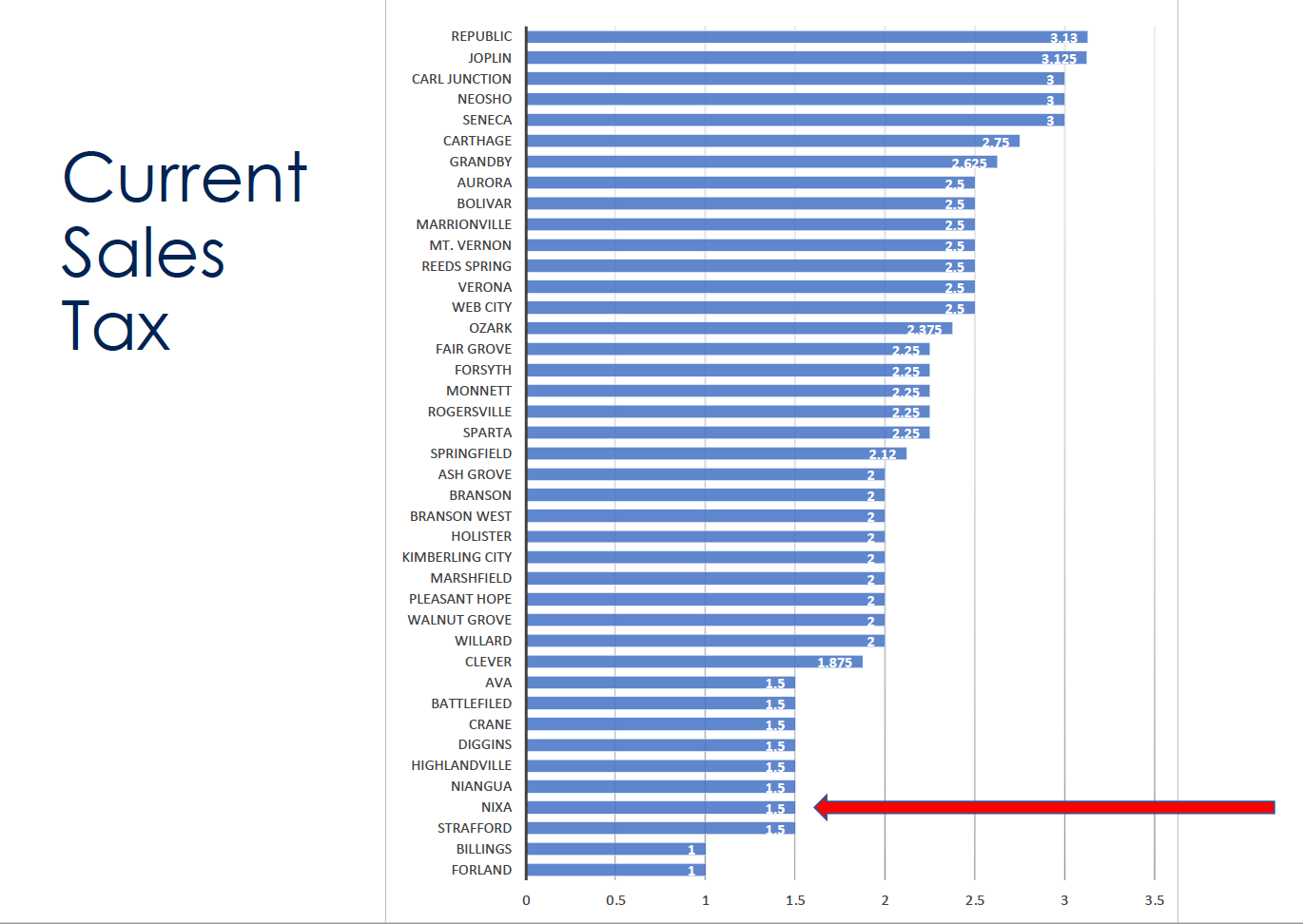 What's Next
Next Monday night, August 22, Nixa City Council will be voting on whether or not to put this issue on the November ballot for Nixa voters to decide.
Learn More
If you want to learn more, I invite you to watch the city staff's full presentation and explanation for why we are proposing what we are proposing on our Youtube channel at the link below, beginning around the 1:08:00 mark:
Mayor Steele has written multiple times in the community newsletter this year about the growing pains we are experiencing as a community and the unfunded needs the city needs to address. You can read his comments by following the links below:
Thank You
Thank you for taking the time to read this letter. I hope you feel we've been transparent and open with the facts. I've tried to explain exactly why I believe this proposal is a reasonable solution to the growing pains our city has been experiencing and which my staff is charged with addressing.
I sincerely want to do my best as your City Administrator to lead the municipal government in the direction of serving our residents the best we can, and humbly thank each of you, as well as the Mayor and City Council for entrusting me with the responsibility of my position.
Please feel welcome to reach out to me, Chief Campbell, or Parks Director Matt Crouse with questions about these proposed projects. Please also feel welcome to contact your council members regarding your opinion on this proposal.
Sincerely,
Jimmy Liles
City Administrator