Nixa Parks To Open New Inclusive Playground & Earns Award As Demonstration Site for Playground Design
Nixa Parks To Open New Inclusive Playground & Earns Award As Demonstration Site for Playground Design
April 21, 2023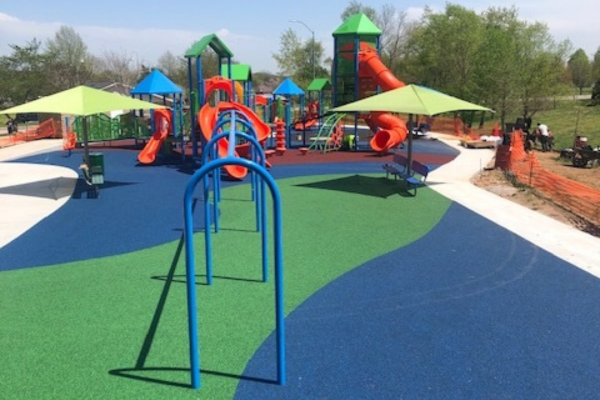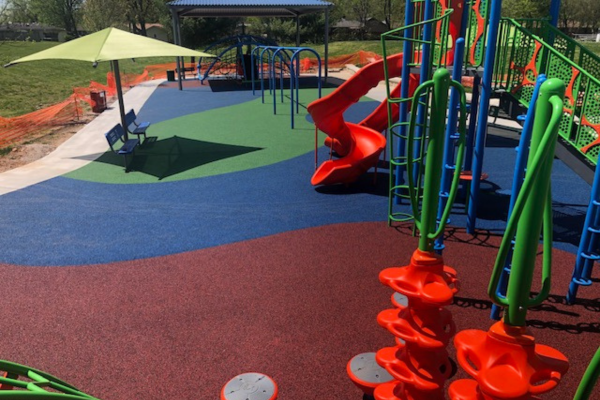 Nixa Parks & Recreation is excited to announce a grand opening ceremony for the new inclusive playground at McCauley Park will be held Tuesday, May 2nd 5pm to 7pm. Local media and members of the Nixa community are invited to attend this ceremony. In conjunction with the ribbon cutting for the new nearly $1 million playground, we will celebrate that PlayCore, a leading company in play and recreation research, programming and products, recently awarded its National Demonstration SiteTM Award to Nixa Parks & Recreation.
The playground will be open to the public beginning Monday, May 1st, 2023 at 9am.
PlayCore awards the National Demonstration Site™ Award to the McCauley Park Inclusive Playground for excellence in providing a playground which thoughtfully promotes physical activity, integrating the 7 principles of inclusive design, and advancing recreation by aligning with research-based best practices.
This Inclusive Playground applies a comprehensive design philosophy by utilizing the 7 Principles of Inclusive Playground Design™ to innovate an outdoor play environment where both physical and social inclusion can occur to the greatest extent possible. Moving beyond minimum accessibility guidelines, this park intentionally addresses the development of the whole child, aligns with evidence-based design principles of the whole environment, and ultimately, benefits the whole community by providing a meaningful destination for individuals of all ages and abilities to play together. A robust and balanced assortment of playground activities can be found to support the physical, social-emotional, sensory, cognitive, and communicative needs of all children, including those with disabilities.
This Play On! playground promotes fitness and fun by implementing the Play On! design best practices to intentionally promote physical activity through active play and encourage the developmental progression of skills through healthy movement. This outdoor play destination incorporates six key elements of play: balancing, brachiating, climbing, spinning, sliding, and swinging to promote fitness opportunities that support national physical education standards and efforts to combat childhood obesity.
"National Demonstration Sites exemplify evidence-based best practices in design and implementation, support health-related initiatives, and provide meaningful ways for community stakeholders to gather data about the sites' impact on the community. McCauley Park was recognized for turning research into practice as a National Demonstration Site of excellence," said Jennie Sumrell, PlayCore Director of Education.
McCauley Park in Nixa, MO will be listed on the PlayCore National Demonstration Site Map. To learn more about turning research into practice, visit playcore.com/nds.
"Nixa Parks and Recreation is excited to have the opportunity to bring an amazing park upgrade to the Nixa community," says Matt Crouse, Nixa's Director of Parks & Recreation, "and we know the community will be excited for this playground renovation. Nixa Parks and Recreation knows that play is fundamental to a child's development, and children of all abilities deserve the opportunity to be socially accepted and included in play with their peers. The new playground design aims to encourage interaction, break down barriers, foster friendships, and encourage multigenerational play."
The inclusive playground features a motion sensor arch, pour-in-place surfacing, and offers various types and forms of play at a variety of graduated levels and challenges.
The McCauley Park playground renovation was planned in the city's 2022 budget. To afford a playground installation of this magnitude, the Mayor and Council earmarked funding which had been saved and accumulated over nearly a decade of the city's budget years.
The Nixa Parks Department has also worked with CC Links to sponsor a portion of the new McCauley Park playground equipment. This partnership allowed Nixa Parks and Recreation the additional opportunity to apply for and receive a grant to replace the main play structure at Rotary Park for half the price! The play structure upgrade at Rotary Park is expected to be installed later this year.
"We have loved helping the community make great memories at McCauley Park and look forward to the many new memories that will be made at the new playground," says Crouse.