Letter from the Mayor: December 2022
Letter from the Mayor: December 2022
December 5, 2022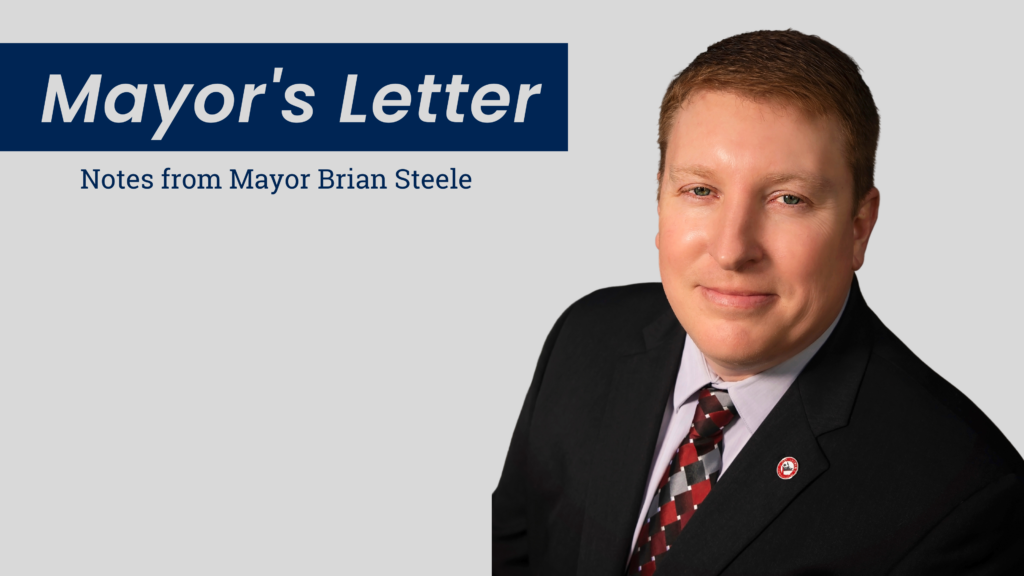 Greetings and I hope everyone is having a wonderful holiday season! At the City we are finalizing our 2023 budget and moving forward with projects we have slated for next year. 
Our anticipated general fund tax revenues for 2023 are a little under $6.1 million. This includes sales and use tax, property tax, and franchise tax. Keep in mind, the City only receives about 5% of the total real estate property tax collected from a Nixa property owner, but the city does not collect any personal property tax. Franchise taxes are charged to gas and cable companies for their use of the city's rights-of-way to lay their underground infrastructure.
The Police Department is mostly paid for out of these general fund tax revenues. Our Police expenses for 2023 are budgeted at $5.9 million including staff, operational expenses, and capital needs. However, there are other municipal government functions which need to be paid for from the general fund as well, including administration, stormwater, planning & development, economic development, and parks & recreation. As you can see, the cost of operating our Police Department is nearly as much as all our current general fund tax revenues.
With the unfortunate loss of the Nixa ballot question in the November election, Council and staff will need to work on go-forward plans to allow the City to meet our minimum parks and public safety requirements as we move into future years. Council and I have outlined  the following plan to prepare Nixa as much as possible to address the challenges we foresee in Nixa's future.
Current Year Budget – The current 2023 budget, while tight, was planned based on the scenario that the November tax initiative failed. This will mean no new officers or other staffing additions for general fund departments in 2023 but no other adjustments are planned for this budget.
Community Refocus – Council has asked staff to create an online survey focusing on what elements of City services they wish Nixa to continue to provide. In past strategic planning processes, when we sought community input, we asked open ended questions about what services the community wanted the city to provide but did not explain the trade-offs forced by limited revenues. Therefore, the new surveys will be designed to ask which services should be prioritized for funding at the expense of cutting back or eliminating services which are labelled lower priority by the community.
Potential Future Ballot Proposals – Council will review options for specific tax initiatives to meet both our current needs and future expansion. Council may then propose to place a menu of specific initiatives on a future ballot as needed. Potential tax proposals could include – a parks tax, stormwater tax, general sales tax (to be earmarked for police), economic development tax (to fund efforts to attract/support businesses and jobs), capital improvement tax (to pay for one-time projects which will not add to our ongoing maintenance and operations costs). This would provide a wide range of choices for the community so they can select which aspects of local government to prioritize through funding.
7-Year Budget Projections – City staff is currently working on a 7-year budget projection so that Council can plan for future shortfalls and put plans in place for a gradual reduction of City services in the case that no additional funding is approved by voters.
Communications Plan – As the City starts to wind down specific services and functions, we will need a comprehensive communications plan related to those changes and any future tax measures, to keep the public informed.
Parks Reduction Plan – For 2023 the Parks Department is anticipated to generate $1.248 million revenue with $1.795 million in personnel and operating expenses – a difference of $548k. The City needs a plan that reduces this difference to $300k-$350k. This is approximately 10% of current general sales tax revenue and reasonable considering our limited capacity for non-police spending from the general fund.
Police Services Plan – The City needs a plan to maximize officers on the street considering current budget and facility limitations. This will most likely mean reduction in some current services like Community Policing programs and a reduction in overall proactive policing policies.
At this point it is my recommendation that the City only focus on maximizing police funding to ensure the continued safety of the community, focusing Parks funding on the maintenance of existing Parks and facilities and the maintenance and expansion of streets and utility infrastructure as required.  We will continue to do everything in our power to make the best possible use of the resources available and continue to keep Nixa a safe and growing community.
Sincerely,
Mayor Brian Steele