Remembering K9 Jannie
September 30, 2022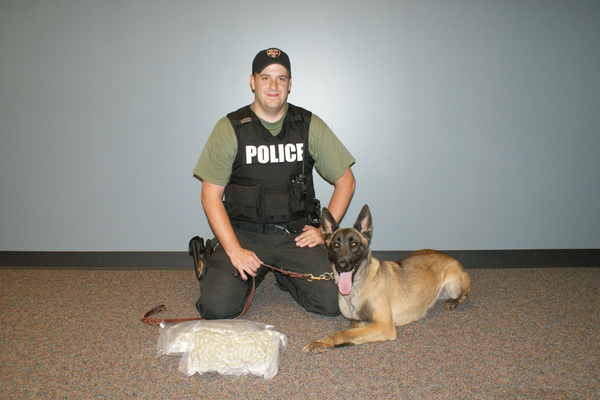 It is with great sadness that we announce the passing of retired K9 Jannie. Jannie passed away on September 11, 2022 surrounded by those that loved her most.
K9 Jannie will be laid to rest at Rivermonte Pet Cemetery in Springfield.
As we mourn her passing, we want to thank this community for your support of Jannie during her service and in her retirement. Jannie served as the K9 unit with Sergeant Shawn Clark from 2011-2019, restarting the K9 Program here in Nixa. Throughout that time, she played a valuable role in carrying out the Police Department's mission.
Here are some words from Sergeant Shawn Clark on behalf of Jannie's memory:
"Nearly eleven years ago today, I started a new journey within my profession and headed to Alabama where I would spend the next two months learning to handle a police dog. I remember the first day and walking into the Kasseburg Canine Training Center, not knowing anyone, being almost 9 hours from home, and feeling more nervous and scared than when I first attended the law enforcement academy. However, I remember quickly being made to feel at home after meeting my trainers, Angela Brotherton, Pam Rogers, Matthew Bales, Chad McCluskey, and several others!
The first couple days it felt like there was only classroom stuff we had to take care of…but I was just anxious and ready to meet my new four legged partner! Our daily routine was to show up at the training facility in the mornings and help clean the kennels before starting our day. I remember walking into one of the areas to clean, and seeing this one dog I knew nothing about but thinking…I definitely want this one!
At that point, I had no idea which dog had been selected for me and my agency, but I was certainly hoping it was this one! Within a couple days of being at training, I was paired with my new partner and was more than excited to learn it was the ONE, Jannie!
After completing our training, K9 Jannie and I would spend nearly the next 9 years working together, side by side, hardly ever missing a shift together…countless hours and miles spent riding in a vehicle with each other!
There wasn't much known to me about being a K9 Handler at the time I accepted the position. This particular job was one of the most difficult I've ever done…there was definitely a lot that I didn't know went into it. I wasn't perfect, and trust me, had MY fair share of mistakes! But this was without a doubt one of the most rewarding jobs I ever had…especially once I learned to just, "Trust my dog!" If I could go back and do it over again, there would be no hesitation…but only if I knew I was being paired with Jannie again!
Jannie was without a doubt the best!!! Not to say we didn't have our moments. I know she would frustrate me, and at times could be so incredibly stubborn…but we were just the same so, I know she felt the same about me!"