New Inclusive Playground To Be Built At McCauley Park
New Inclusive Playground To Be Built At McCauley Park
July 18, 2022
The City of Nixa Parks & Recreation Department is announcing design plans and concept renderings for a new inclusive playground to be built at McCauley Park.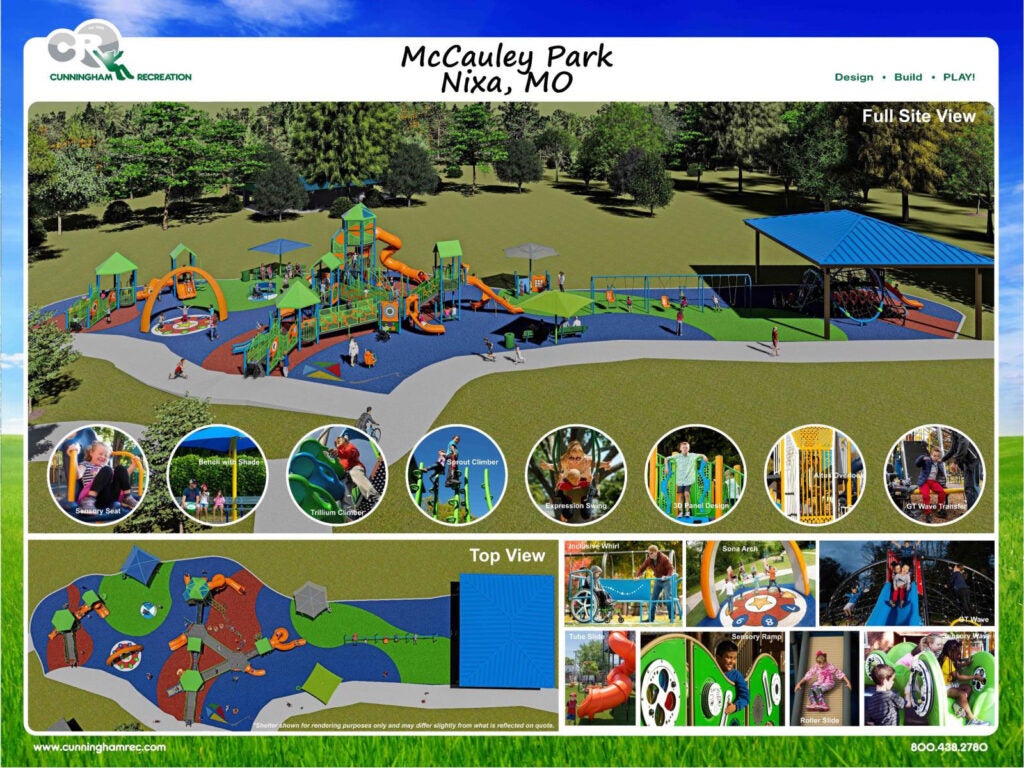 "Nixa Parks and Recreation is excited to have the opportunity to bring an amazing park upgrade to the Nixa community," says Matt Crouse, Nixa's Director of Parks & Recreation, "and we know the community will be excited for this playground renovation. Nixa Parks and Recreation knows that play is fundamental to a child's development, and children with all abilities deserve the opportunity to be socially accepted and included in play with their peers. The new playground design aims to encourage interaction, break down barriers, foster friendships, and encourage multigenerational play."
Construction on the project is anticipated to begin fall of 2022 with completion anticipated by the end of 2022.
The inclusive playground will feature a motion sensor arch, pour in place surfacing, and offers various types and forms of play at a variety of graduated levels and challenges.
The new playground equipment will replace aged playground equipment which has reached the end of its life. The current playground equipment is 20 years old. Earlier this year, the parks department invested in a project to resolve recurring stormwater issues which were impacting the playground area. That project has been completed and the site is now better prepared for the installation of new playground equipment.
The McCauley Park playground renovation was planned for in the city's 2022 budget. The cost of the new playground is just under $1 million. In order to afford a playground installation of this magnitude, Mayor and Council earmarked funding which had been saved and accumulated over 8 of the city's budget years. On Monday July 11, 2022, Nixa City Council passed a resolution authorizing the city to enter into a contract for the construction of the new inclusive playground.