Letter from the Mayor: May 2022
Letter from the Mayor: May 2022
April 29, 2022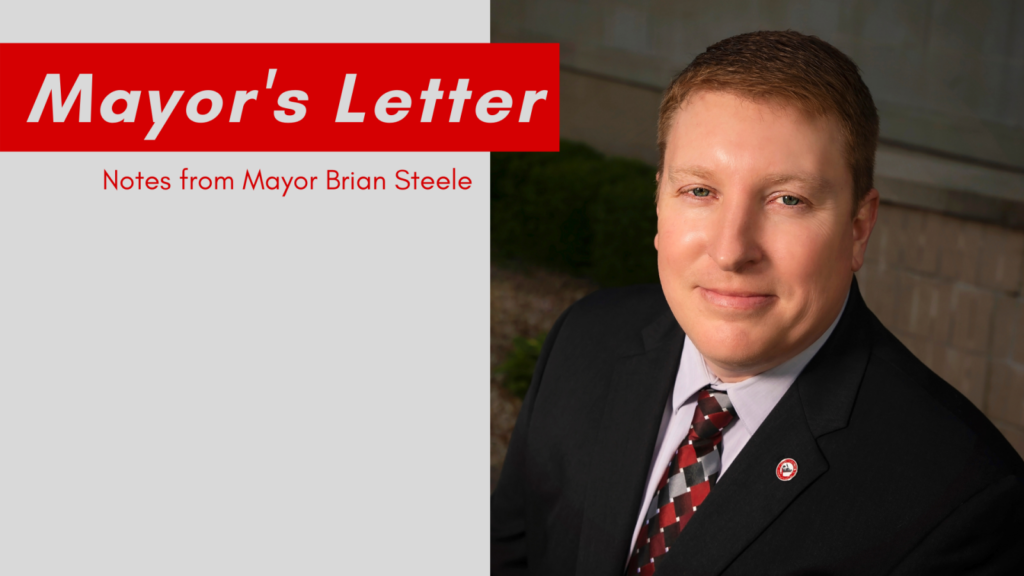 It's finally spring and the weather is warming up! We can't wait for Sucker Days later this month so we can gather and celebrate our community while welcoming visitors in to show them all the exciting things happening in Nixa. I'm grateful for the work that the Chamber of Commerce, the downtown business owners, first responders, entertainers, volunteers, vendors, parade participants, and visitors do to make it a bigger and better event every year. I certainly anticipate this year's to be one for the record books thanks to the winding down of the pandemic, increasing the ability for more folks to come out to enjoy the food, arts, music, crafts, and hometown spirit – everything Nixa has to offer.
But in this month's letter, I want to give you an update on a few of the priorities the city is trying to plan for based off our recent Council workshop session, and I want to explain how we might pay for some of the projects our city needs to take on to get to the next level of community growth and improvement.
The list of big, expensive projects the City needs includes:
Expansion of our Police Department to accommodate the growing number of officers needed to answer all the 911 calls in our booming town.
Addition of another 11 Police Officer positions including salaries, benefits, equipment, training, etc. Our recent staffing survey shows this is the number needed to meet the growing number of calls for service while maintaining the high level of service, short response times, and reputation for constant presence which makes criminals think twice before cutting off catalytic converters in Nixa.
Resolving ongoing emergency radio problems across Christian County so first responders can communicate reliably.
Expand access to high-speed internet so all Nixa residents and businesses have the option to connect to an affordable, fast service.
Improve North Street from Century Elementary past Cheyenne Rd., providing needed safety for both drivers and pedestrians.
Addition of more indoor Parks & Rec facilities for basketball, volleyball, and other sports to accommodate our growing youth recreational sports leagues.
Build a skate park to give a safe place for kids and adults who enjoy those types of extreme sports.
Add additional sidewalks and trails – and develop the Eoff Family Century Farm Park land for more outdoor recreational park space for families to enjoy.
Provide new wastewater infrastructure expansion in SW Nixa so that we can provide for both commercial and residential development in that area.
I hear folks asking, "what about the $4.5+ million in ARPA money given to the city by the federal government?" Well, great question and I'm glad you asked.
The federal and state guidance for how this money must be spent has changed multiple times and may continue to evolve with proposed legislation. The good news is we do not have to decide how we want to spend those funds until the end of 2024, and we don't have to spend it all until the end of 2026.
So currently, the council, city staff and I agree that the best thing we can do is wait to see if additional federal and state grant funding rounds become available with potential "matching funds" conditions attached. This would give us the opportunity to stretch our funds, paying for half or more of one of our big projects – fiber internet, first responder radio systems, street or wastewater projects. Along with doubling our available funds, waiting will also allow time for supply chain and spike inflation issues to subside. In my mind, it is well worth the wait to see what opportunities may arise on this front. Stay tuned.
That still means several projects – specifically parks facilities, the police department expansion and the need for additional police officers would remain unfunded since we don't anticipate matching grants coming available to help us stretch those ARPA dollars as far as we believe we can stretch them on infrastructure in the next few years.
City staff are currently researching how much it might cost to expand the Police Department. They are also researching how much it might cost to build indoor parks facilities – think a field house concept – sufficient enough to meet the needs of our recreational leagues, and maybe even create a destination venue which could attract tournaments and generate further economic development by drawing in visiting families who would inevitably look for places to eat, shop, and stay in our community.
Once we have an accurate cost estimate for these projects, the conversation will continue as to how to pay for them. In the meantime, if you happen to find tens of millions of dollars worth of spare change in your couch which you would like to donate to improve our town, City Council would happily name any of these proposed projects after you!
Sincerely,
Mayor Brian Steele